Maeuntang
It is a soup made with fish as the main ingredient, vegetables, tofu, etc., and hot pepper paste and red pepper powder-based seasoning, and then boiled spicy. Whitefish, such as pollock, beef tongue, flatfish, anglerfish, sea bass, cod, flounder, catfish, carp, crucian carp, mullet, dongja dog, stone sea bream, and flatfish, are mainly used.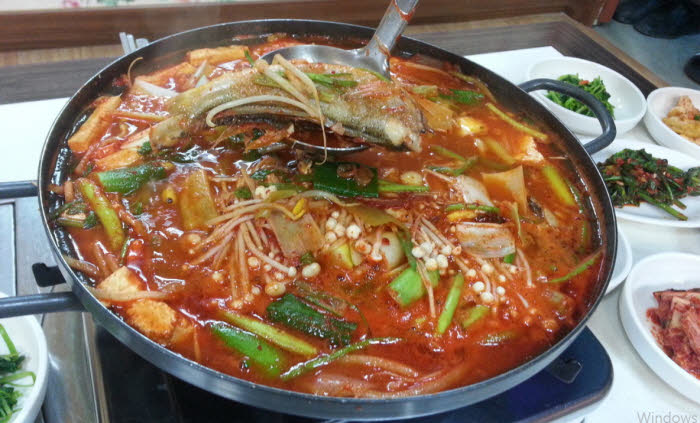 When it comes to maeuntang, it mainly refers to fish maeuntang, which is boiled with sea or freshwater fish. Freshness is important for any, but the method of boiling it is slightly different. The sea fish maeuntang is boiled in a broth with Kochujang, then put in the fish slices and boiled only enough to be cooked. If it is boiled for too long, the flesh will break off the bones and crumble and taste tasteless. On the other hand, freshwater fish must be boiled for a long time so that the flesh is crushed, so that it does not have a dirt scent, and it tastes good.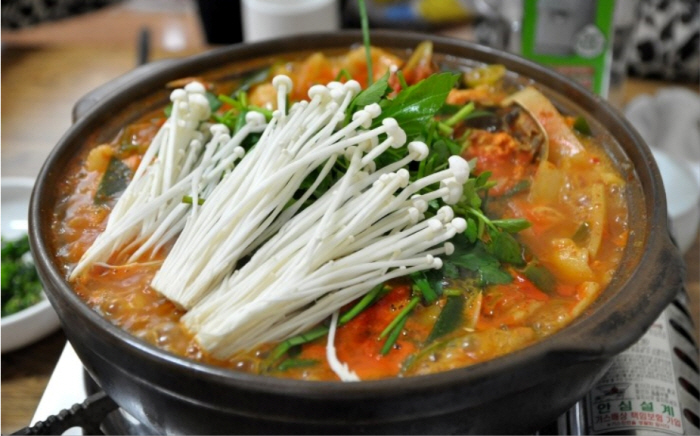 Origin
In 『Siuijeonseo』, "The fish jochi is very diverse in formality. To make a stew, put a spoonful of oil in the red pepper powder and put it on top of the stew. The color is beautiful and the taste is good." In the royal court, stew with red pepper paste is called 'gamjeong', and a stew made with a special broth or a side dish with salty seasoning such as steamed or boiled is called 'Jochi.
Novelist Park Jong-hwa said, "Coilia nasus can only be found in the Haengju River in the Han River. By the time you eat Dano lettuce wraps in May, Coilia nasus increases, which is one of the flavors that only Seoulers can taste. The taste of Coilia nasus sashimi eaten on a boat while looking at Haengjusanseong Fortress from the Haengju River in May Dano is amazing. Not only to eat sashimi, but if you catch the blue and white Coilia nasus like a knife with a dura and bring it home, beat it with a knife to make a dongle, and then boil red pepper paste in water and eat it with lettuce wrap, it is the best delicacy in the world." I praised it highly.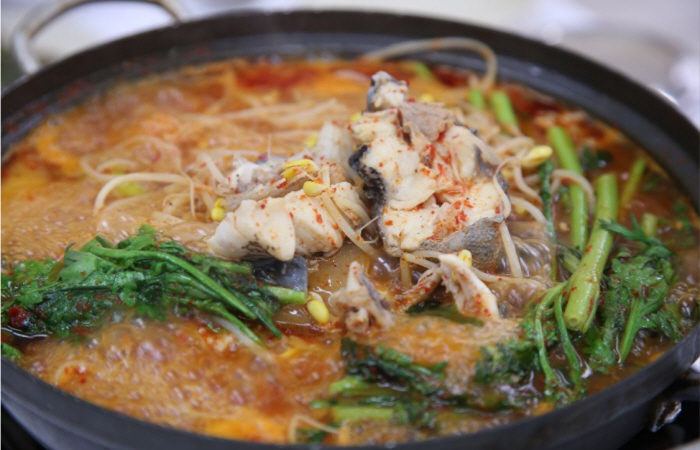 seodeolitang
In fish markets and raw fish stores, maeuntang/jiri are boiled and served with bones left over from sashimi, eggs/jeongso, and head meat. The leftover bones and head meat after all the lean meat is removed is called'Suderi' or'Sudol'. That is why Maeuntang is sometimes referred to as'Sudeultang' and'Suderitang'. Unlike maeuntang with fish meat, this soup is better to expect soup than to expect meat because there is little to eat because it is only meat that cannot be circulated because it is attached to the bone.
Sometimes, there are people who argue that'because the head and bones of fish are concerned about delicacy, the taste of the soup does not deteriorate because there is no flesh. It is also important to brew the broth from the head and bones of the fish, but without the meat that is the core, you can never get a delicious soup. The reason is that there are taste ingredients from lean meat, and above all, if you brewed only from the bones, the fat content will not be released. Considering that a particularly delicious part of fish meat is a fatty part such as belly fat, there is no credibility at all to claim that it is delicious even if you remove these precious and tasty ingredients and simmer only the bones. Even if you boil it in a jiri that doesn't contain any seasonings like Maeuntang, the taste is completely different from a jiri that has only bones brewed and a jiri that has been brewed whole. In the first place, of course, the soup with whole fish is more expensive than the soup of Sutherri, regardless of the type.
However, the remaining bones do not have only bones, and depending on the fish, the flesh is quite attached. Of course you can't do it more than boiled, but it's hard to say that it doesn't taste good. If the bones are thick and large sea bream or the same meat is large, it may be boiled for a long time and then used in a white soup.
Donguibogam said, "When you eat too much fish, you can digest it by drinking its meat soup... After eating sashimi, you can boil soup with the head of the remaining fish." Able to know.
If you don't like the meat in sashimi or maeun-tang, but you like maeun-tang broth very much, go to a hypermarket and buy a sashimi-free flounder or wooruk's head and bones with maeun-tang seasoning and sell it as an ingredient. It is caught on the same day and distributed in refrigeration, so the soup taste is cheaper and much deeper than the commercial frozen Maeuntang Street.
Preparing and cooking ingredients
Dongtae Maeuntang
1 pollack (dried pollack), 100 g beef, 200 g radish, 5 cups of water, 2 green onions, 50 g mushrooms,

50 g garland chrysanthemum, 1 red pepper, 1 head of tofu, Soy Sauce, Appropriate amount of salt

(A) 2 teaspoons soup soy sauce, 4 teaspoons chopped green onions, 2 teaspoons minced garlic, 2 teaspoons sesame oil, a little black pepper

(B) 2 tablespoons of red pepper paste, 1 teaspoon of red pepper powder, 2 teaspoons of minced garlic, 1 teaspoon of minced ginger
1. Pick fresh pollack or dongtai, scrape the scales well and remove the intestines. Cut into 5cm pieces and sprinkle a little salt.
2. Cut beef into greasy parts, mix evenly with the seasoning of (A), fry in a pan, add water and boil to make soy sauce.
3. Cut green onions obliquely, garland chrysanthemum 5cm long, radish flat, cut the roots of blackberry mushrooms, roughly split, and cut the red pepper diagonally to shake off the seeds.
4. When the soup tastes good, mix the seasonings of (B) and boil for a while, then add fish and radish to boil, season with salt or cheongjang (conventional soy sauce), then add tofu and vegetables and boil for a while.