Hotteok
GIt is a rice cake made by kneading flour or glutinous rice flour and then baked in a round shape with sugar stuffing, and it is one of Korea's representative street snacks. Hotteok is a food that originated in the present Central Asia and the Arab world.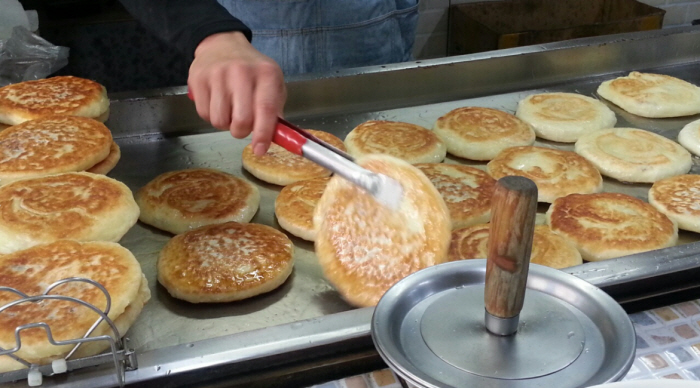 Origin of Hotteok
It refers to a rice cake made by kneading flour or glutinous rice flour and then adding sugar, etc. and baking it in a round shape. The name of 'ho' and'rice cake' in Korean are combined. Here, 'ho' refers to people living in the Orangkae-Seo(Central Asia, Arabs).
Hotteok came into Korea through Central Asia and China via the Silk Road, and it is said that the majority theory was started by Qing dynasty merchants who entered Korea at the time of Im Ogunran in the late 1880s. When the outbreak of Imohgunran in 1882, the Qing Dynasty dispatched 3,000 troops to Joseon, and dozens of Qing Dynasty merchants also came in. After the fall of the Qing Dynasty, merchants who did not return to the mainland began selling food such as dumplings and hotteok for a living. Then, gradually changing the recipe to suit the taste of the Korean people, they began to add jocheong, honey, and brown sugar in the hotteok.
This Korean-style hotteok was first sold in Jemulpo, Incheon, and has since spread in downtown areas such as the Chinese embassy in Myeong-dong, Seoul, and Jongno Street, where many Chinese are concentrated.
Meanwhile, refugees who fled to Busan during the Korean War began to eat various kinds of grain seeds in hotteok, which is said to be the origin of the current seed hotteok. In recent years, the types of hotteok are gradually becoming diverse, such as hotteok with sugar, green tea hotteok made with green tea powder, corn hotteok made with corn powder, and vegetable hotteok with vegetables instead of sugar.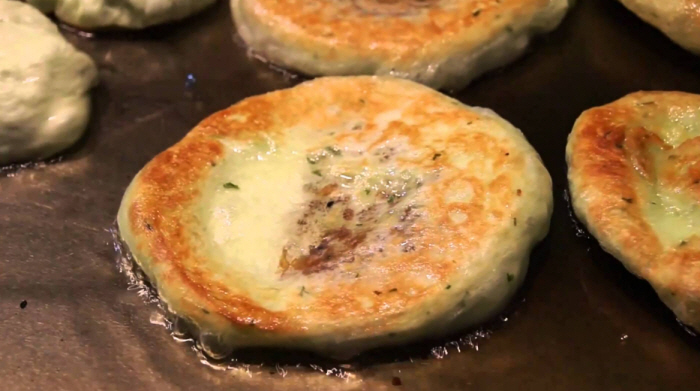 How to make Gamjatang
Many people think of hotteok when it comes to typical snacks eaten in winter. However, as hotteok became more popular, it became possible to buy hotteok throughout the year. Originally, hotteok, which was cooked with less oil, has been fried and sold in many places. If you plan to make hotteok yourself, after making the dough, inflate it up to twice the original volume in a warm place.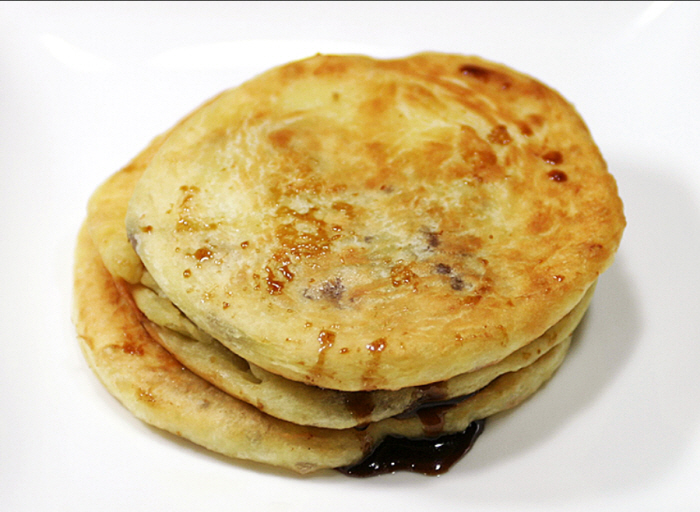 Ingredients and quantities
Flour (strong flour) 1 cup, dry glutinous rice powder 100 g, dry yeast 1 teaspoon, water (40℃) 1 cup, salt ½ teaspoon, sugar 1 tablespoon, cooking oil 4 tablespoons
Hotteokso
nuts 70g, brown sugar 100g, cinnamon powder 1 teaspoon
how to make
1. Dissolve dry yeast in warm water.
2. Put the flour, glutinous rice flour, yeast, sugar, salt, and water in a bowl and knead until the surface of the dough is smooth.
3. Let the dough rest at about 40℃ for 40 minutes to swell twice.
4. Chop the nuts finely and mix with brown sugar and cinnamon powder.
5. Apply oil to both hands, remove an appropriate amount of dough, spread it out, put hotteokso inside, and fold well.
6. Put a generous amount of cooking oil in a heated pan and cook both sides while pressing the hotteok dough with a presser.