The name of the area that became the name of Bomun Station is derived from the name of Bomunsa Temple located here. Bomun-dong was established by incorporating a part of Sinseol-dong when Seongbuk-gu was separated from Dongdaemun-gu by Presidential Decree No. 159 in August 1948. Dongmangbong, near Bomun Station, is the place where the story of Queen Danjong's Queen Jeong-sun's drawing of Danjong is entangled. There aren't any great tourist spots around the residential area, but it's a good place to enjoy the happiness in a small life. Walk along Seongbukcheon to Cheonggyecheon. The main attraction in the station area is Bomunsa Temple on Exit 1.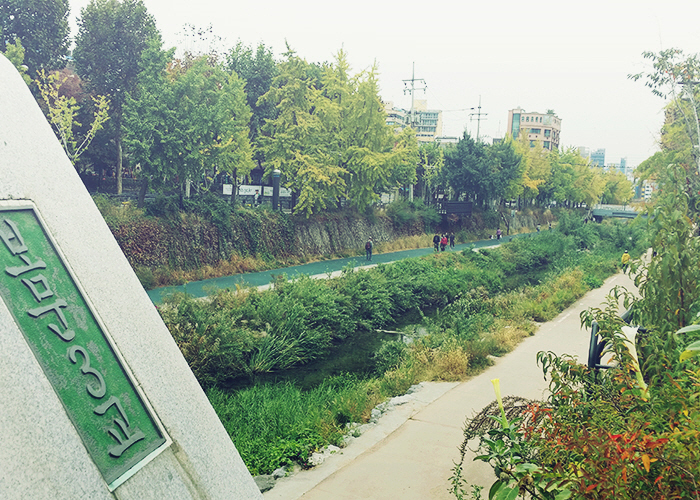 When it comes to Bomun Station, I think of nearby Bomunsa Temple or Dongmangbong Peak, but the fun here is a walk along the river. Seongbukcheon, near Bomun Station, was originally a tributary stream that originated from Bukak, but it lost its function as a river as several areas were covered, and it was artificially restored from the Hanseong University Station to the Cheonggyecheon Hapsubu along with the ecological restoration project to create a promenade. After walking leisurely through Seongbukcheon, take a look at the Seoul Folk Market at the Cheonggyecheon Hapsubu, then move again to enjoy a walk in Cheonggyecheon, then go to Dongmyo Park. If you are hungry, walk toward Sinseol-dong Station on the left before going to Cheonggyecheon to go to Yongdu-dong Jukumi Alley.
Line 6 Bomun Station Exit 5 -> Seongbukcheon -> Dongdaemun Library, Pungmul Market -> Cheonggyecheon Wall of Hope, Hwang School, Yeongdo Bridge -> Dongmyo Park -> Line 6 Dongmyomae Station Exit 3. (It takes about 3.5km, takes about 2 hours and 30 minutes)
1. Seongbukcheon
100m from Exit 5 of Bomun Station (Line 6)
It is a second-class tributary river that originates from the east of Bukaksan Mountain and connects to Cheonggyecheon Stream. It was partially covered, but, like Cheonggyecheon, was partially restored through ecological restoration work (Hanseong University Station ~ Cheonggyecheon Joint Department).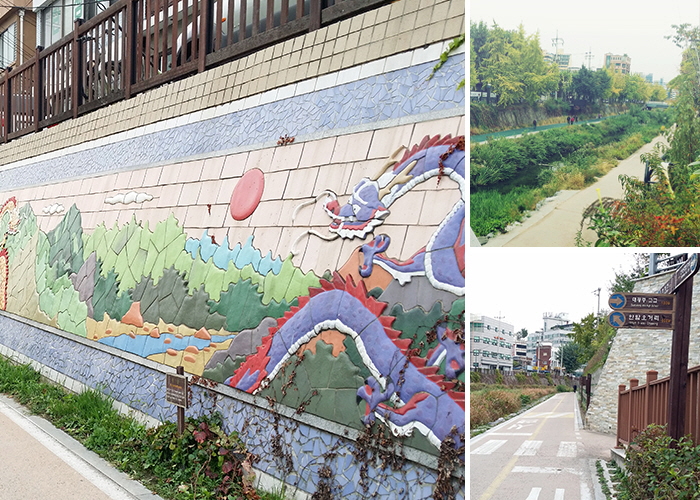 2. Dongdaemun Library, Pungmul Market
PLines 1 and 2 Sinseol-dong Station Exits 9 and 10 100m, Walk 1800m to Seongnaecheon on the course, turn right 200m right in front of Yongma Bridge
With the restoration of Cheonggyecheon, the Hwanghak-dong flea market, used folk market, and street vendors were relocated to the market by Seoul. There are about 894 small and medium-sized street vendors. The city of Seoul plans to make it to the same attractions as Saint-Ouen in Paris, Portobello in England, and Jatujak in Thailand.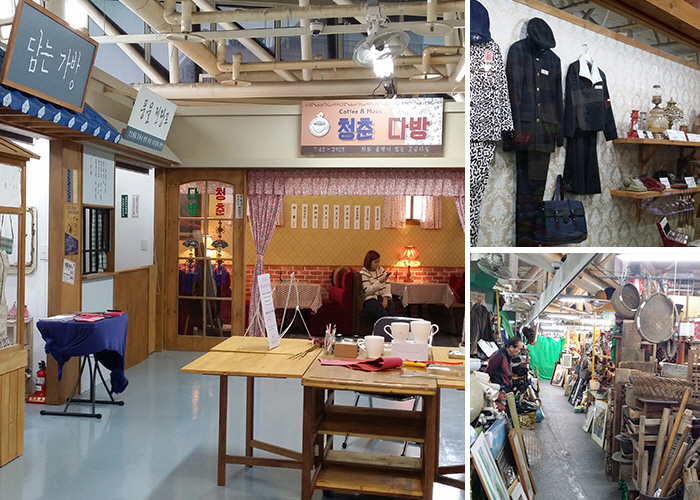 3. Cheonggyecheon Wall of Hope, Yeongdo Bridge, Hwang School
Sinseol-dong Station Exit 6 480m, go down to Cheonggyecheon after viewing the Pungmul Market on the route.
There are many attractions throughout the restored Cheonggyecheon stream. In particular, the Wall of Hope, located between the Yellow School and the Biwoodang Bridge, is a place created by collecting 20,000 tile murals of Seoul citizens, and is of great significance. It is also good to see the Cheonggyecheon Bridge, including the Hwang School and Yeongdo Bridge, which were restored to their former location. Yeongdo-gyo was called Wangsimpyeong Bridge in the early Joseon Dynasty, and is known as the place where Queen Jeong-sun, his wife, farewell to Danjong, who was exiled to Yeongwol. Stone materials were used to restore Gyeongbokgung Palace at the end of the Joseon Dynasty, and the site was covered. Yeongdo-gyo, which was taken from'Young-young parting', was covered only and the location was known, but the bridge was newly erected. Hwang School, the 18th bridge to Cheonggyecheon, is a newly constructed bridge with the restoration of Cheonggyecheon.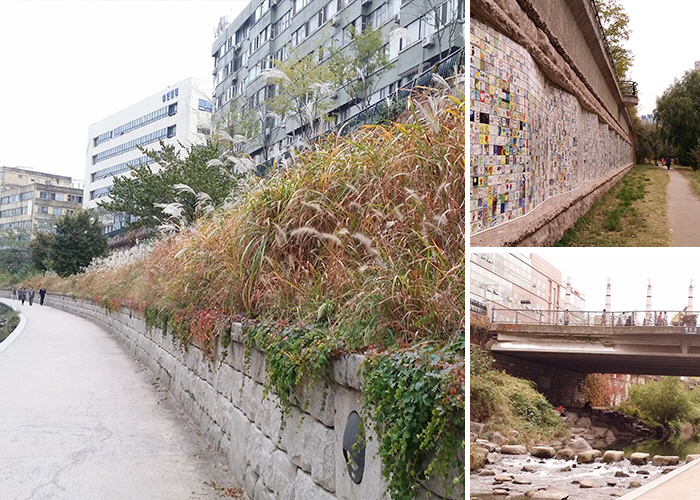 4. Dongmyo Park
100m of Dongmyomae Station Exit 3
This park is home to Treasure No. 142, Donggwanwangmyo, in Sungin-dong, Jongno-gu. The Dongguan Wang Mausoleum was built in 1601 as a shrine dedicated to the longevity of China, Guan Yu.