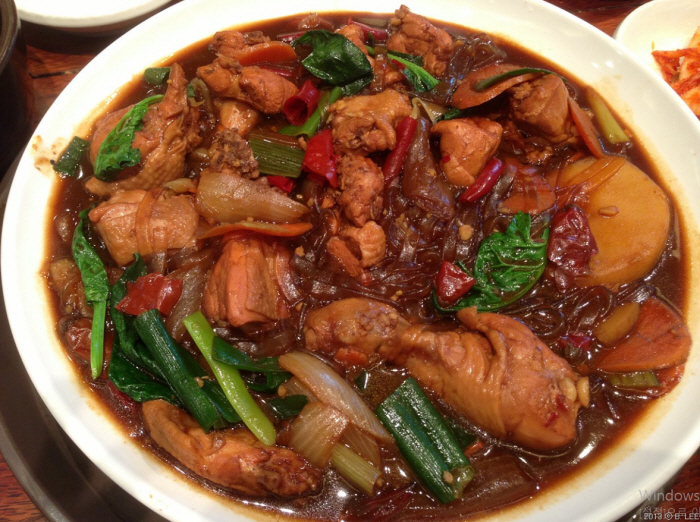 Andong

jjimdak (Andong-style Braised Spicy Chicken with Vegetables)
A dish originated in Andong, Korea, made with vegetables and vermicelli in chicken and simmered in soy sauce.
Andong Jjimdak is a food that has been enjoyed at traditional markets in Andong since the 1980s. Andong Jjimdak is a meat dish with various vegetables and vermicelli added to a piece of chicken and is loved by citizens for being inexpensive and plentiful. Especially, the salty, sweet and spicy taste is loved by everyone, regardless of age or sex.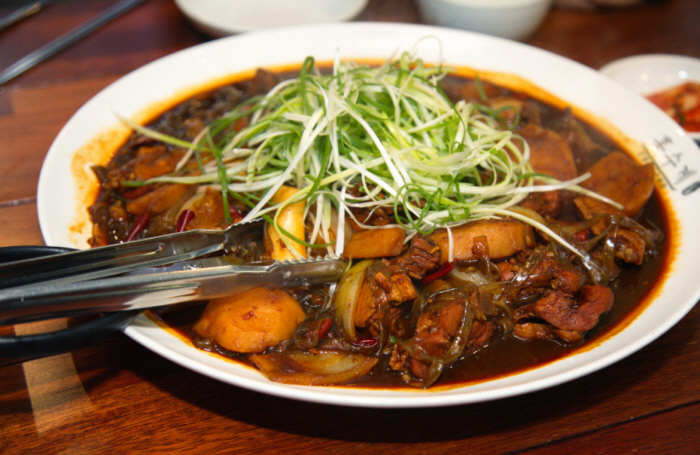 Origin of Andong Jjimdak
Andong Jjimdak is a food made by merchants in Andong to design inexpensive, delicious and hearty dishes to suit the tastes of citizens. In Andong's old market, there was a place called "Tongdak Alley" that mainly sold raw chicken or fried whole chicken since the 1970s.
When consumers were fed up with fried chicken, from the mid-1970s, fried chicken was mixed with minced garlic to create a spicy and spicy garlic flavor and began to sell. Garlic whole chicken was once very popular and loved until now, but as more and more people want new flavors, a new steamed chicken was developed in the 1980s.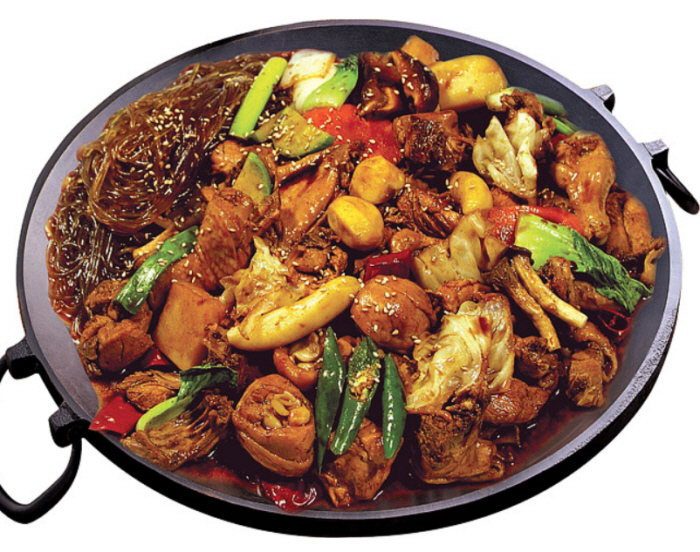 In simple terms, steamed chicken is a fusion food cooked with a little bit of moisture by adding vermicelli and various vegetables to the seasoning of steamed ribs. Compared to traditional chicken dishes that are not much different from the amount of one chicken, the steamed chicken boasts a generous amount of chicken, vermicelli, and vegetables, and you can mix rice with the leftover soup. It can be eaten in a variety of ways, such as side dishes, snacks, and stew, as well as alcohol snacks.
The young population tends to be large because there are three universities in Andong, a small city. One of the most loved menus in Andong's university district is Jjimdak. Jjimdak is the first and most common food freshmen meet at a new student welcome party or meeting. Although it is a delicious meat dish, it is loved as a snack because it is generous. In particular, because it is possible to solve both meals and snacks with just one steamed chicken, it is widely loved by college students with light pockets.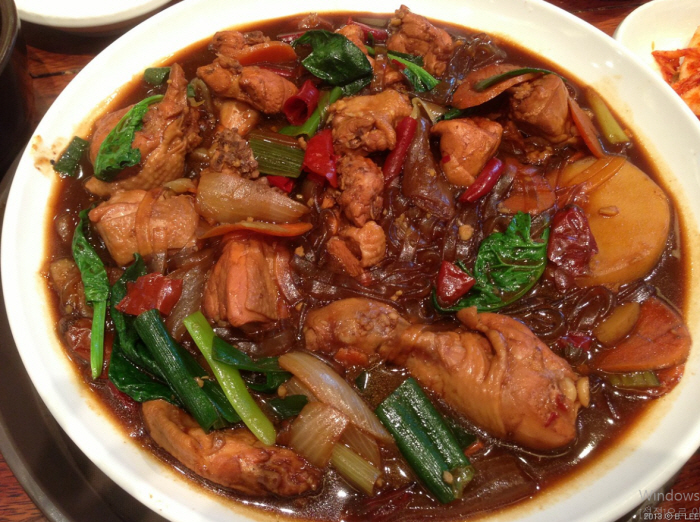 Preparing and cooking ingredients
1 chicken, 300g vermicelli, 2 potatoes, 1/2 carrot, 5 dried peppers, 2 onions, 2 green onions, 1/2 cucumber, 1 tbsp flour, 1 tbsp sesame oil

A. Seasoning: 1 cup of soy sauce, 2 tablespoons of oyster sauce, 1/2 cup of starch syrup, 2 teaspoons of minced garlic, 1 teaspoon of ginger juice, 1 tablespoon of sake, a little pepper powder, a little sesame seeds, 4 cups of water

※ Unit of measurement 1 teaspoon-5ml(cc) / 1 tbsp-15ml(cc) / 1 cup-200ml(cc) / 1 doe-5 cups (1,000ml)
1. Trim the chicken and prepare bite-sized noodles, and soak the noodles in cold water for about 30 minutes.
※ If you boil the cut chicken in boiling water once, impurities and grease are removed and the taste is lighter and cleaner.
2. Cut potatoes and carrots into bite-sized pieces. Remove seeds from dried peppers and cut diagonally.
3. Slice the onion and green onion thick, and the cucumber thick and diagonally, and mix the flour evenly.
4. Mix A to make seasoning.
5. Put sesame oil in a pan and fry chicken, potatoes, carrots and dried peppers, then add seasoning and fry.
6. When the chicken and potatoes are cooked, add cucumbers, onions, green onions, and soaked vermicelli and fry them for 5 minutes.