Gamjatang
Gamjatang is a thick and spicy soup boiled with seasonings such as pork spine, potatoes, groats, ground perilla, sesame leaves, green onions, and garlic. It is used as a haejang-guk in the morning or as a meal menu, late night snacks, and alcoholic beverages in hot summer and when the weather gets cold.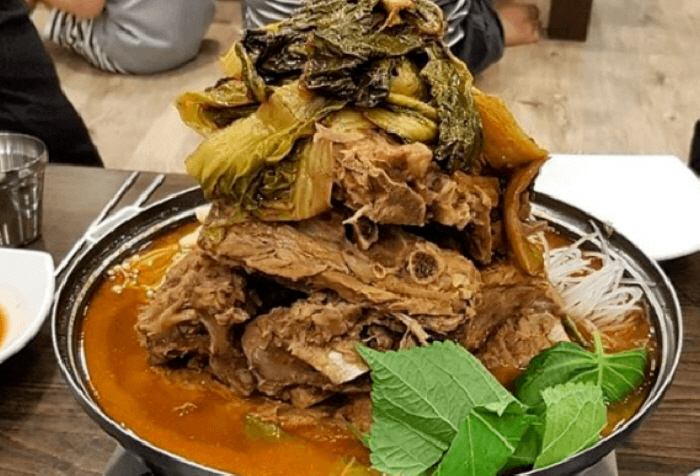 Origin of Gamjatang
There is a theory that the name'Gamjatang' originated from the fact that the spinal cord contained in the pig's spine is called'potato', and there is a theory that there is a part called potato bone when the spine of a pig is divided into parts, and it is said that it was called'Gamjatang' because it was boiled. Gamjatang is a traditional Korean food that originated in the current Jeolla region, which was famous for raising pigs during the Three Kingdoms period when Goguryeo, Baekje, and Silla competed for jaung, and spread throughout the country. It is said that it originated from catching'pig' instead of the precious'cow' used in farming, and making food with broth made from the bones and feeding it to the elderly and patients with weak bones. These gamjatangs began to take root in Incheon, where people from all over the country flocked to the opening of the Gyeongin Line at the same time as Incheon Port was opened, and in 1899, when a lot of manpower was mobilized for the opening of the Gyeongin Line, Bone Haejangguk and Gamjatang became the representative foods of Incheon. I got a seat.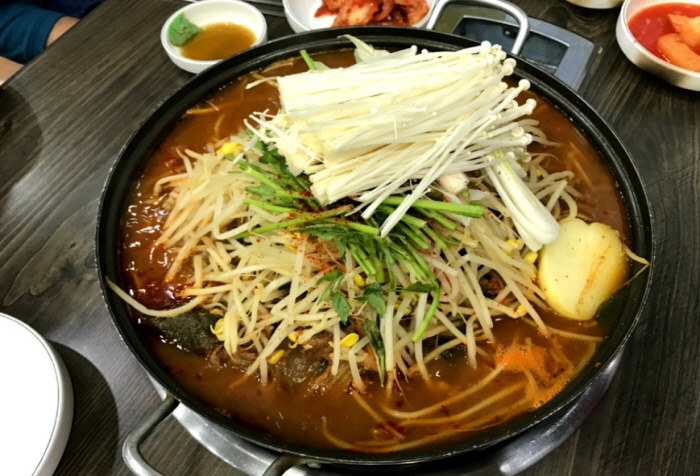 The efficacy of Gamjatang
Pork spine is rich in protein, calcium, and vitamin B1, which is very helpful for children's growth, stamina food for men, low-calorie diet food for women, and anti-aging and osteoporosis prevention food for the elderly. It is also said that woogeoji and siraegi, which are put together and boiled, facilitate bowel activity and eliminate hangovers.
Inexpensive, generous, and nutritious, gamjatang is welcome
Originally, Gamjatang was eaten in Jeolla Province. Instead of a rare cow, which is essential for farming, pigs were caught, and the bones were brewed with plenty of vegetables in a broth to make food and feed them to people with weak bones or to patients with weak bones. Gamjatang, spread across the country, has become a nutritious meal that is welcomed by workers at Incheon docks, especially among the common people. There are a number of fitting conditions at work.
Perilla seeds that brighten the skin and clear the hair.
Perilla sesame is an indispensable ingredient for making the rich flavor of gamjatang, which makes the skin smooth and clears the hair. Perilla sesame contains a lot of vitamin A and vitamin C, so it smoothes the skin and clears the hair. So, it is said that she has fed a lot of daughters and scholars who are about to get married since before.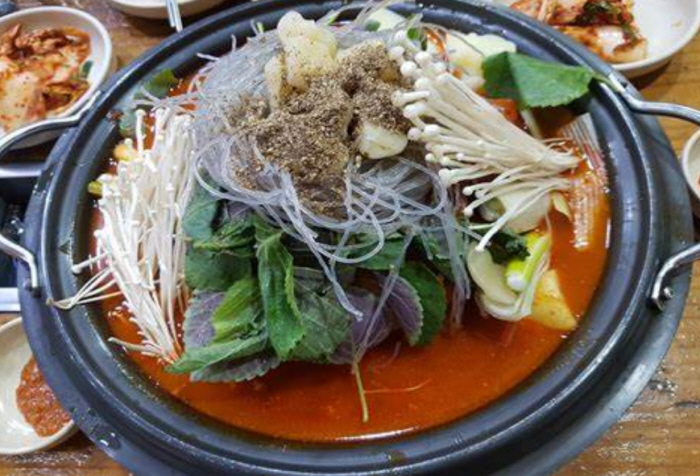 How to make Gamjatang
Pork ribs are not only savory with the flavor coming from the bones, but are also the chewy cut of the lean meat . Fossil Fossil was summer potatoes are boiled good to eat as a snack , I recommend also utilized throughout a variety of side dishes . Boil it in a whole and boil thick ribs and light summer potatoes together to complete pork ribs Gamjatang . The rich and filling taste is excellent as a summer delicacy . Vitamins and calcium-rich potatoes and good quality only if you consume high protein content of pork ribs with even helps recovery from fatigue .


Ingredients and quantities
Pork ribs (500g), boiled siraegi (1 handful = 100g), Potato (2ea ), onions (1ea), Salt, pepper powder
gyeotdeulim
Red Pepper Powder (1 Rice spoon ), Minced Garlic (Rice spoon 1), Minced Ginger (Rice spoon 0.3), doenjang(Miso ,Rice spoon 1.5)
how to make
1. pork chops are thick flesh moist and elastic ttuimyeo pink in the state as , fat lump in chunks is not it chooses to.
2. Soak pork ribs in cold water, drain the blood for about 2 hours, put it in a pan, pour water only enough to submerge it, and boil it.
3. When the water boils, pour out the water, pour cold water again , boil over high heat , and when the water boils , reduce to low heat and boil for 3 hours.
4. Potatoes with pre-boiled or steamed and peeled , split in half sell me cut to the appropriate length.
5. Drain the water and cut boiled siraegi into pieces that are easy to eat, and season with seasoning.
6. Place the seasoned siraegi in boiling salted pork ribs (0.2), pepper (0.1) , please fit the liver.
7. Add cooked potatoes and green onions and boil once more to finish.