Jokbal that goes well with soju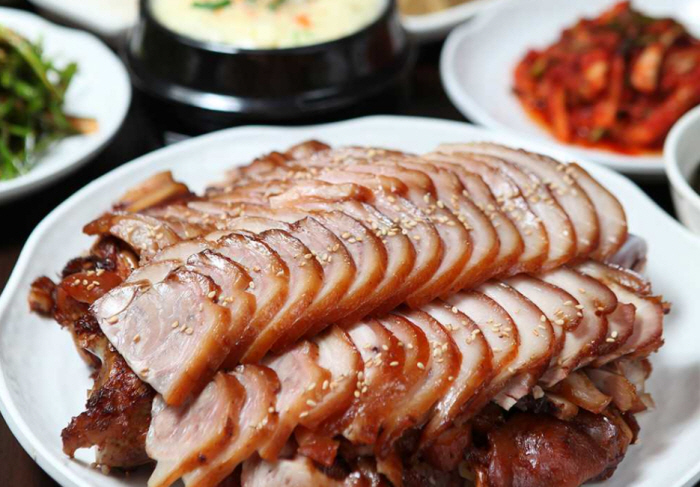 It is the same pork, but the chewy taste is completely different from the lean meat, which is the charm that only It is the same pork, but the chewy taste is completely different from the lean meat, which is the charm that only Jokbal have. One of the Jokbal, which is eaten with salted shrimp soup and wrapped in lettuce, is a favorite snack for liquor lovers, and is a special food that comes to mind when dinner is out of season. The peculiar taste of pork feet is thanks to the gelatin that makes up the skin and cartilage in the joints.
Chewy

Jokbal
Everyone thinks of Jangchung-dong in Seoul when it comes to jokbal. This is because it is the place where the most of the jokbal shops that have been created one by one from 40 years ago are concentrated. Although it is rare for a restaurant that is said to be old and does not have originals, it is also a characteristic of Jangchung-dong Jokbal Street restaurants that there are many signs of'Original'.
It is known that the beginning was developed by the grandmother Lee Gyeong-soon, a grandmother who was a great man, applied the pork feet food that was eaten in her hometown during the Korean War and Chinese five-hyangjang meat. It is said that Jokbal Street became famous as the displaced people who came to see the name of'Pyeongando Jokbal', visitors of the nearby Jangchung Gymnasium, and the floating population of Namsan National Theater were gathered.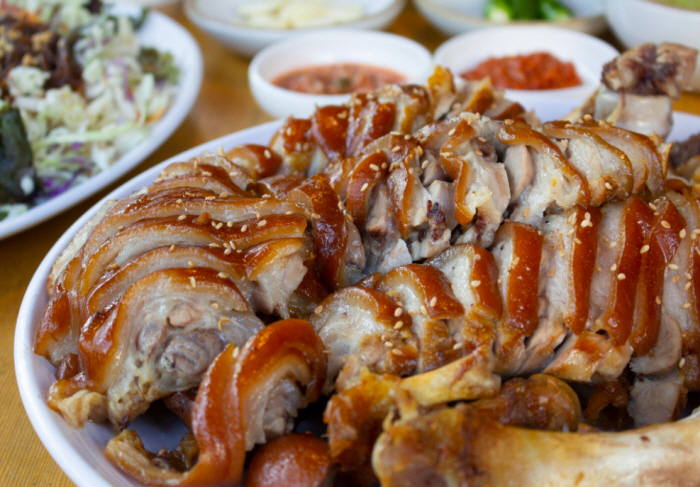 In China, pork feet are prepared with noodles for longevity on a birthday and used as a celebration food for good health.'Icevine', a boiled pork feet that German people enjoy eating with beer, is a food that attracts attention because it is similar to Korean Jokbal. to be.
Women enjoy it because it is said to be good for skin beauty, but it is known to help prevent aging because it contains an ingredient called'chondroitin', a physiologically active substance.
Recently, the spicy seasoned Jokbal that have been boiled and softly cooked with a spicy seasoning made with red pepper paste, red pepper powder, soy sauce, starch syrup, and minced garlic, and then grilled or roasted are popular. The taste of the spicy seasoning with fire scent is attractive.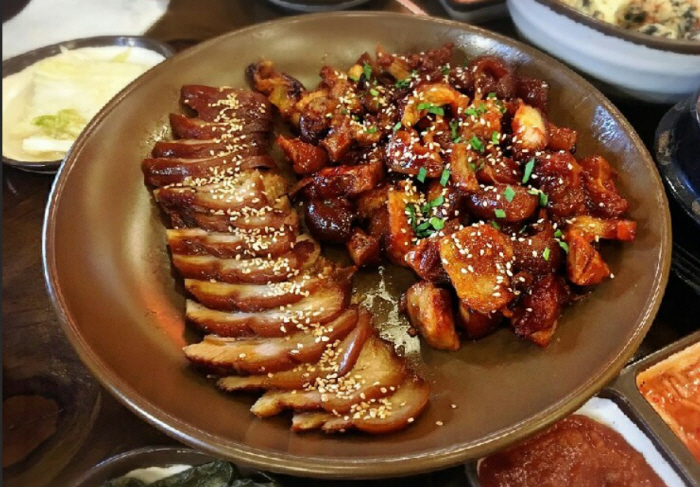 Jokbal

promote the secretion of breast milk.
Jokbal promote the secretion of breast milk. This is because the protein contained in Jokbal improves the quality of breast milk. Since ancient times, when mothers lacked milk, they squeezed Jokbal and drank the broth. These days, mothers enjoy eating boiled Jokbal as an alternative.