Sullungtang
The broth made from boiled ethmoid bones or crucible bones is rich in protein, helping to recover from disease and boosting immunity. Seolleongtang is made with iron heads, iron legs, beef, bones, and intestines all together and cooked for a long time. One of the representative lunch menus of office workers, it is a food that has the unique sweetness and umami of beef. If you eat it with plenty of green onions and kkakdugi, it is a good one meal.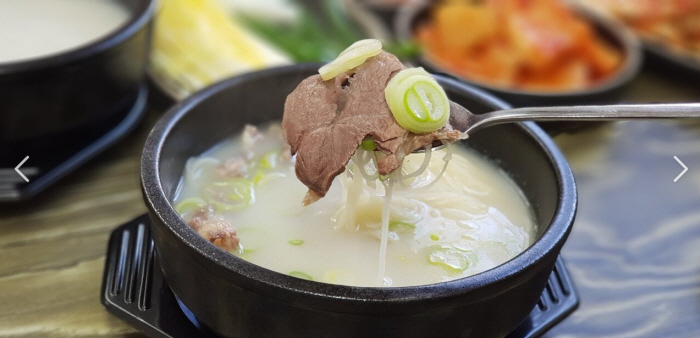 The taste is rich broth ppoyatgo to seolnongtang.
There are various theories about the origin of Seolleongtang. First, in the Joseon Dynasty, the king behaved as Sunnongdan, and a big festival was held for raw rice, fresh vegetables, and beef and pork.

Then , an event that used to be pro- gyeong-gyeong (the ritual of the king's personal answer) was held. At the end of the event, they cooked rice and millet in a cauldron prepared in advance, and Soro made soup and came out of the place where an old man aged 60 or older was called and fed.

"Chosun gastronomy ( Dynasty when the chingyeong in)" King Sejong University of Technology was also not a bad move, suddenly heavy rain and lowering chonbo. And because he couldn't stand the hunger, he caught the cow that was used for friendliness, put it in plain water, and boiled it to eat. The origin is explained by saying that this became seolleongtang.

Another theory is the recipe for boiling the meat in Mongolia that freshwater would have come Seolleongtang the country ... "Hmong harmful" There gongtang (is water boiled meat emptiness -tang is to say that a) is Mongolian syuru and, "tongues jipseok " in the gongtang kongtang Han, Qing the sealer, Mongolia was that Herr rura. Therefore, this sealer and Shulu became seolleongtang.

Seolleongtang, a specialty food in Seoul, was marketed as a popular food from an early age. Seolleongtang was always boiling in 2 or 3 large cast iron pots in Seolleongtang House. Next to it, the cut meat of several parts that were put in when the seolleongtang was picked was cut into each part and placed on a tray.

When a customer asks for seolleongtang, put rice in a pot and heat the rice with hot soup. Then, they put on a bowl of noodles, put the meat on the tray according to the customer's request, and poured in plenty of hot soup.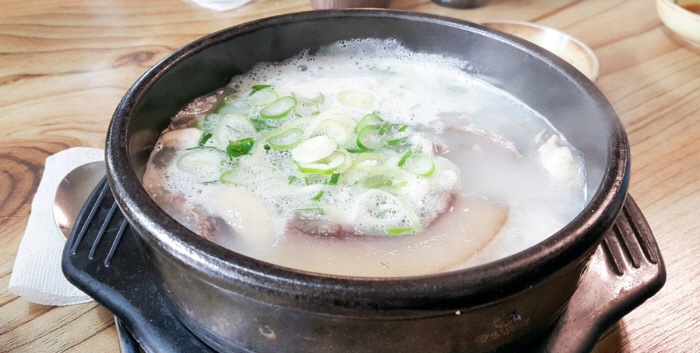 Earthen pot, green onion, and kkakdugi
There were several famous Seolleongtang restaurants in Jangan, Seoul during the flowering period. When one cow was caught consistently, almost all the parts except the cowhide and dirt were put in a large cauldron and boiled from dawn to 1 am the next day. Naturally, from midnight to 1 a.m., the soup will become a boiled state. It is said that it was about that time when regular customers gathered.

The taste of eating by pouring the sweet and sour Kkakdugi broth into the white soup of Seolleongtang boiled in a cast iron pot is truly delicacy.

Seolleongtang is a dish that is boiled in advance, then served with rice in a pot and poured soup, so it can be eaten almost at the same time as an order, making it a favorite lunch menu for busy office workers.
How to make Seolleongtang
Seolleongtang is a soup made of iron head, intestines, crucibles, and beef bones, and has been labeled as Seolleongtang, Seonongtang, and Seolleongtang. Since the Silla Dynasty in the "Chosun gastronomy" of hongseonpyo look at the origin of the Seolleongtang farming is dedicated to seonnong govern farming yieotgie Nation's scenario, when a line nongje sacrifice of national scale Wang University of Technology in Dongdaemun out Jegi-dong now by action directly chingyeong.
Ingredients and quantities
Soemeori 1㎏, soejok 1, 1 ethmoid 1㎏, crucible, events 300 g, brisket 300 g, vermicelli (noodles) 100 g, onion 100 g, onions 5, garlic per copy, ginger 1 Tall
gyeotdeulim
songsong Sun onions 3 tablespoons, red pepper powder 1 teaspoon, sake 3 tablespoons, pepper powder 1/2 teaspoon, salt 1 teaspoon
how to make
1. Wash the iron head, iron foot, bone bone, and crucible into pieces, and soak in cold water for 1 to 2 hours to drain the blood.
2. Pour water into a large pot and boil, add the ingredients in step 1, and when it boils, pour it into a colander and pour out the water.
3. Put the ingredients of 2 in cold water again, and boil it with the brisket heads and silkworms that have been thoroughly simmered and clean. Remove the bubbles and boil them gently over low heat.
4. When the soup is sufficiently simmered and tastes good, remove the meat and cut it into thin slices. Cool the broth to remove the fat.
5. Serve boiled noodles or vermicelli together or serve separately.
6. Serve with finely chopped green onion, salt, pepper, and red pepper powder without seasoning in advance.