Sundae (Popular Korean sausage)
It is made by filling the intestines of pigs with vegetables, vermicelli, and various ingredients, giving taste and color with seonji, and steaming them with steam. A popular Korean food similar to western sausages.
In some areas of Busan , Ulsan, and Gyeongsangnam-do, it is eaten in makjang (ssamjang), and in other areas, it is usually eaten with seasoned salt , and is also sold with by-products such as pork liver and lungs . In Jeju Island, sundae is eaten in soy sauce. Depending on the ingredients, there are squid sundae and glutinous rice sundae, and there are Byeongcheon sundae and Abai sundae depending on the region where they were made. In Gwangju, Jeonbuk, Jeonju, and Wanju, they are eaten by dipping them.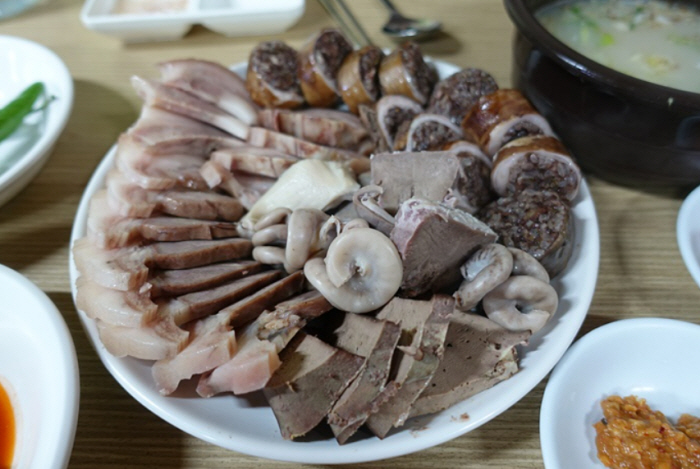 Origin of Sundae
The origin of sundae can be found in foods made with animal blood and intestines.

As a record in the literature, there is a method of boiling sheep's blood and mutton along with other ingredients in the intestines of the sheep in Jemin Yoosul. From these records, it is presumed that Sundae existed in Korea from an early age.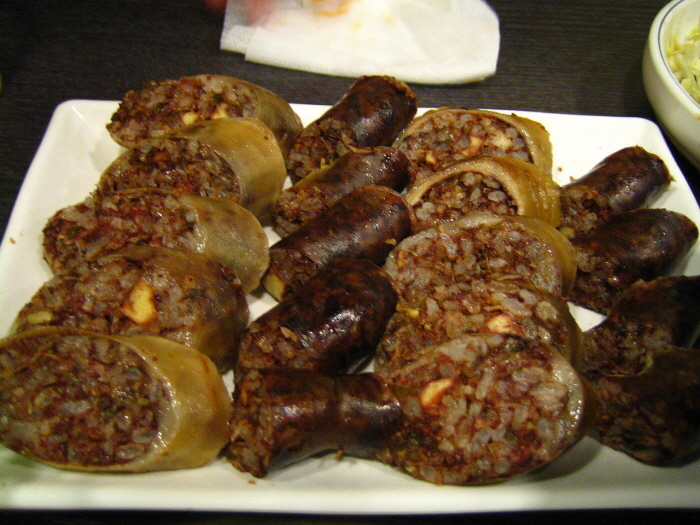 Our country and look at the records appear in the cooking book rallying series the iron gut steamed, Siuijeonseo Jeon What to do next there is a» How to make a measly eogyo doyaji a measly.

Steamed soybean intestine is cooked by putting cow in the intestine and tying both ends of the intestine with thread, and Eogyosundae is cooked by putting the cow in the flounder fillet, and Toyajisundae is cooked by putting the cow in the fish intestine, and pork skin, stew, parsley, radish, tofu, cabbage It is boiled with a mixture of kimchi and other ingredients.

Sundae is commonly made using pig intestines, but there is also sundae made with fish. In the Hamgyeong-do region, pollock is caught a lot, so make sundae with pollock and eat it.

Dongtaesundae pickles pollock overnight, puts his hand in his mouth, and takes out the intestines, then fills the belly of pollock tightly, stitches his mouth, and freezes it.

In the Gangwon-do region, squid sundae, which is eaten after being boiled or steamed after being sewn with a thread in the body of a squid, and dried squid sundae, which is eaten by soaking dry squid in water for about a day, peeling it and spreading it with seasoned flour dough, rolled with thread, and steamed in a steamer have. The dried squid sundae is also made in Gyeonggi Province.

Dried squid sundae is used as a side dish or snack, and pork sundae is sliced ​​thinly and served in soup. It is especially enjoyed in Pyeongan-do and Hamgyeong-do.
How to make Sundae
Ingredients and quantities
10 oz (300g) pork small intestine, 1½ oz (45g) all-purpose flour, 2 cups (15 oz, 450g) glutinous rice, 6 oz (180g) boiled cabbage, 10 oz (300g) mung bean sprout, 6 oz (180) Napa cabbage, 2 cups seonji (clotted cows blood), 10 cups water (2.5L), 1 tablespoon doenjang (soybean paste), 1 oz (30g) ginger
meat seasoning sauce
tablespoons doenjang (soybean paste), 1 tablespoon soy sauce, 4 tablespoons minced green onion, 2 tablespoons minced garlic, 2 teaspoons minced ginger, 2 tablespoons sesame oil, pinch of salt, ground black pepper

Salt seasoning salt
gochut-garu (red chili pepperpowder), ground black pepper
how to make
1. Trim the pork small intestines and then toss them with flour. Soak them in the water for 1 day.
2. Wash the glutinous rice and soak in water for 2 hours. Drain in a colander.
3. Blanch the napa cabbage and mungbean sprout in boiling water and mince them. Squeeze out the water with cheesecloth or paper towel.
4. In a large bowl, mix the glutinous rice and seonji to product a reddish color. Add all the seasoning ingredients and mix well.
5. Remove the pork intestines from the water and drain them in a colander. Tie the one side of pork small intestine with kitchen twine. Stuff the prepared ingredient on the other side with thick funnel or usings a sausage stuffer. Tie with kitchen twine.
CookIng
1. Mix 1 tablespoon of doenjang in water and add the minced ginger. Bring to a boil on medium-high heat and then add the Korean sausages for 30 minutes. Stab the everywhere on Korean sausage with stick to insure even cooking. Reduce the heat to low and simmer for 1 hour.

2. Let the cooked Korean sausage stand cool before cutting into ½-inch (1-cm) thick slices and serve on the plate with salt seasoning for dipping.