Jeon (

Assorted Pan-fried Delicacies)
It is a generic term for seismic food that is covered with oil on a griddle with flour. Jeonyueo or jeonya, the food court before emulsification. Meat, fish and shellfish sseuyimyeo a wide variety of materials, such as vegetables, porphyritic is throughout all goes well, food or janchitsang juansang. There is not much tempura in Korean cuisine, but there are many pancakes. Jeon is a pancake dish. The whole persimmon is sliced ​​thin and evenly, and the size and shape are uniform, and it is served with flour and egg water. If the liver is bored before, dip it in soy sauce and eat it. Various types of fish, meat, vegetables, seafood, and flowers are used as ingredients for jeon. · Fish pancake · Oyster pancake · Ae pumpkin pancake · Green pepper pancake · Pajeon · Buchujeon · Kimchi pancake · Wanjajeon · Onion pancake · Yeongeunjeon · Shiigojeon.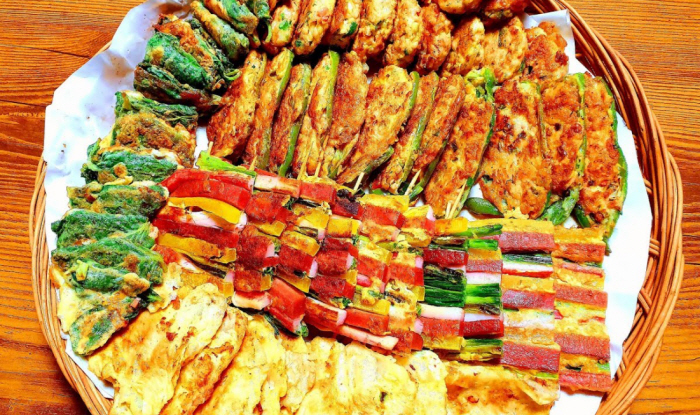 Fish pancakes mainly use white fish with a light taste. After thinly forming the flesh of the fish, it is covered with flour and egg water in order, and then grilled in a pan covered with oil and browned back and forth. Beef is often used for meat pancakes, and thinly wrapped flesh is covered with flour and egg in order, and then cooked in oil. Or, cut the beef into length and season it with soy sauce or sake, then put it on a skewer with green onions or mushrooms, soak it in egg water, and then grill it in an oil-filled pan to make skewers. Before using vegetables, various types such as cabbage, pumpkin, chives, leeks, potatoes, and onions are included. For vegetables with large or elongated leaves, such as Chinese cabbage and chives, you can bake the leaves in a pan with flour and eggs in the dough. Chop vegetables such as pumpkin and potatoes into a dough mixed with flour and eggs along with other vegetables and bake them back and forth in a pan. Seafood pancakes are used in a variety of types such as abalone, clams, mussels, squid, and shrimp, and shellfish are eaten with only lean meat and boiled in egg water. Squid and shrimp are finely chopped and then mixed with vegetables and served.
On the other hand, flowers are called Hwajeon, and any flowers that are not toxic can also be made into Hwajeon and eaten. Season the glutinous rice flour with salt, then add water to make a dough. Spread the dough in a circle in a pan covered with oil, turn it over once, and place the flower on it.