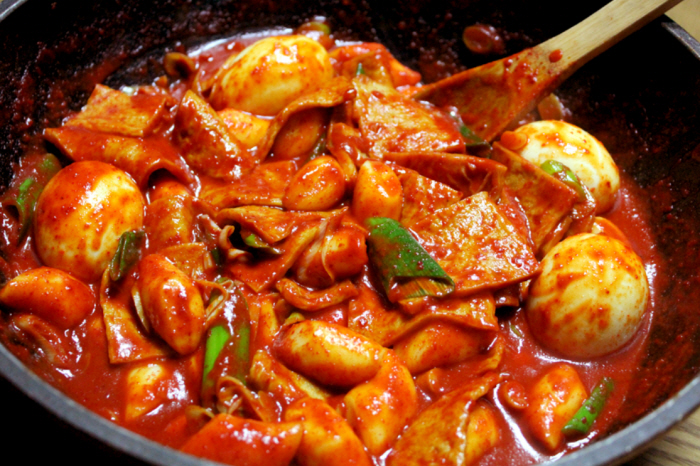 Tteokbokki
Tteokbokki is Korea's representative street food (bunsik). Galaetteog (a stick of rounded rice cake) and vegetables stir-fried with Gochujang. Tteokbokki is one of Korea's most popular snacks, so even people who are not good at eating spicy foods drink water and eat it. Recently, the types of tteokbokki have been diversified, and there are dozens of types of tteokbokki such as gugmul tteokbokki, oil tteokbokki, curry tteokbokki, and yeopgi tteokbokki.
Garaetteok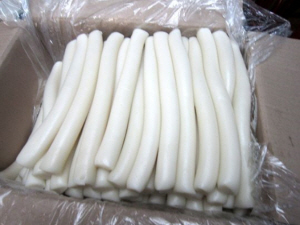 Garaetteok is made by steaming non-glutinous rice flour and putting it on a bowl and striking it very long to make it round and long. It is called garaetteok because it has a long shape. It is written in <Dongguk Tax Period, 1846> that "baektang or byeongtang was always eaten on the morning of New Year's Day, and when guests came, they were treated to it." Nowadays, most households eat diagonally-sliced rice cake soup, but in the past, they ate sun-deok-guk made from sliced rice cakes like the sun in order to wish for good health for the year. In the Kaesong region, Joraengi Tteok-guk in the shape of a gourd with a narrow waist was eaten on New Year's morning before Goryeo. The reason is that it resembles a package of Yeopjeon, meaning that Kaesong people, who were good at business, wish for wealth in the new year as well. Is contained.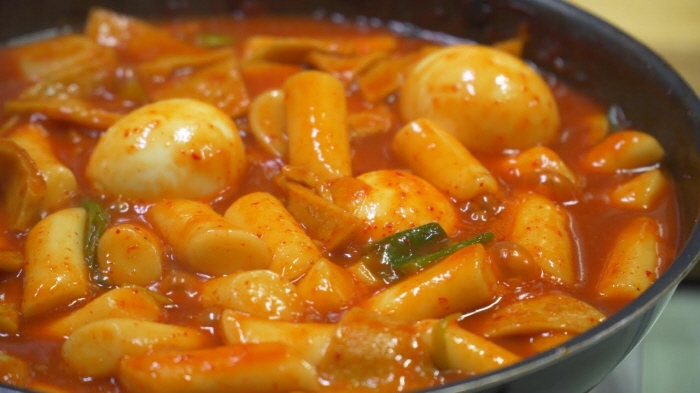 Origin of Tteokbokki
The first record of tteokbokki is 『Poetry』, which is said to have been made with white rice cake, sirloin, sesame oil, soy sauce, green onions, stone mushrooms, pine nuts, and sesame salt in court cuisine. Records say that instead of the name tteokbokki, it was called tteokjjim, tteokjapchae, and tteokjeongol. Tteokbokki, seasoned with soy sauce, was originally from the Jongga of Papyeong Yun's family. The soy sauce of the Papyeong Yun family was delicious, and it was a snack cooked in soy sauce with ingredients such as beef ribs. Since then, the name and name of Tteokbokki first appeared in 1942 by Bang Shin-young's Chosun Cooking Method, and a recipe for making rice cakes with meat and vegetables in soy sauce has been handed down.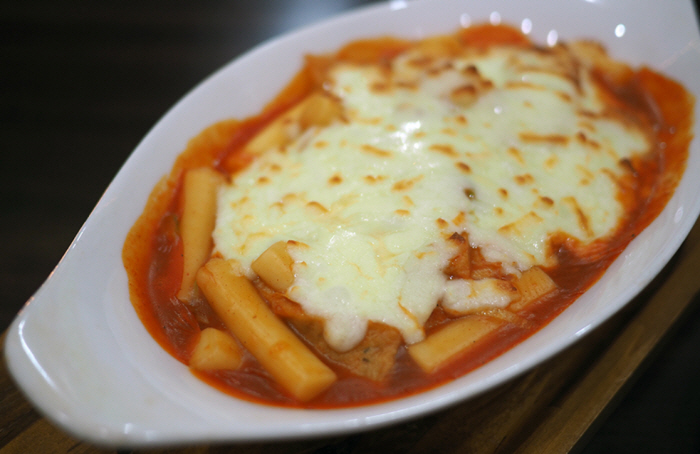 Gochujang Tteokbokki, made spicy by mixing with red pepper paste, began to appear in the 1950s, and it began in earnest in the 1970s. Most of the early tteokbokki, which appeared as a snack for the common people to soothe hunger, used flour instead of expensive rice cakes. Rice cakes are made with the thickness of a finger, and it quickly became popular as the most popular snack along with fish cakes. It is said that the tteokbokki alley in Sindang-dong, which is now regarded as a synonym for tteokbokki alley, also began to emerge in the 1970s.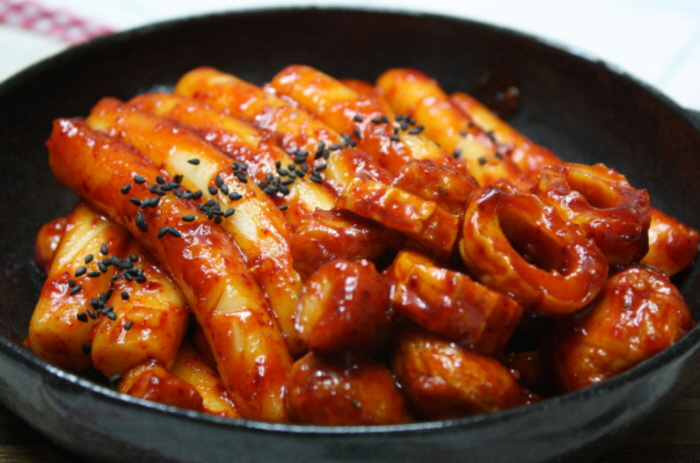 Preparing and cooking ingredients
500g of rice cake for tteokbokki, 3 pieces of Eomug (fish cake), 2 boiled eggs, 1½ cup of water (360ml)

A. Sauce Gochujang 3 tbsp, soy sauce ½ tbsp, sugar 2 tbsp, starch syrup 1 tbsp soy sauce ½ tbsp, sugar 2 tbsp, starch syrup 1 tbsp
1. Put the seasoning ingredients in a bowl and mix well.
2. Cut the fish cake into bite-sized pieces, and the boiled egg in half.
3. Pour water into the pot, and when it boils, add the fish cake and seasoning.
4. Add Garaetteok and simmer over medium heat until seasonings soak in Garaetteok.
If Garaetteok is too hard, gently soak it in hot water for a while
5. Put tteokbokki on a plate and put a boiled egg on top.
6. Depending on your preference, add tempura or cheese and enjoy it.